Vote for us!
Gentle Care has been nominated as one of the Top 5 Businesses in the Veterinary Category for The Oklahoman's 2017 Reader's Choice awards! Vote for us today!
---
Oops!
Oops!  In true Gentle Care fashion, we have kept things interesting and in mailing out invitations for our Open House some of the addresses were mistakenly put with the wrong names.  Please open the invitation as it going to the correct address and we hope to see you there!
---
Gentle Care Animal Hospital Open House!
Our open house will be on Saturday, June 10th 2017 from 12:00pm to 5:00pm. Leashed pets are welcome at the Open House. We hope to see you there!
---
Dr. Whitesell now accepts appointments from 8-6 on Tuesdays!
We are exited to announce these new appointment slots for Tuesdays from 8:00am-6:00pm. Click here to contact us and take advantage of our new, extended hours!
---
Gentle Care Animal Hospital is now 1 of 3 veterinary practices in the country that is 100% bi-communicational!
In our new location, we have partnered with Abaxis and Vetter software companies to run our practice entirely from the cloud. This means that we do not have any machines plugged into computers anymore, and all of our technology is wireless. This new software is easy to use, versatile, and allows us to provide the same level of care that we would expect for our pets, to our clients. Learn more about what Vetter & Abaxis bring to our practice by reading the press release here. Or, come see for yourself by visiting our hospital today!
---
We love getting to cuddle and play with adorable little puppies like this one when they visit our Hospital! We can't wait to meet your pet too!
---
Ground Breaking Day at the New Gentle Care Animal Hospital Site!

Today was the ground break picture for our web site and January add in Dog Dish magazine. Thanks to Anderson House construction for the great hard hats and shovels and for the future build (our present location is the first Veterinary Hospital they built 10 years ago and every thing still works like the day they installed it), thanks to Howard & Associates Inc. for the amazing design of the new hospital (you can see pics on our website Gentlecareah.net and in the lobby of the clinic and on my personal face book page), thanks to Less at SB GraphiX for the current and future signage, thanks to the amazing Brad Haines,Tyler Latta and the entire crew at Bank7 for believing in my dream, a huge thanks to Dr Brian Rean who 10 years ago financed my start at our present location (without his trust and belief in me I wouldn't be at this point today), thanks to our almost 5000 client base (we love you guys, you are all so amazing) thanks to Jim Shumsky (owner of Junior's Supper Club) who introduced me to Brad Haines, thanks to mom and dad for teaching me to treat people the way I want to be treated (that's truly how I have built my practice), thanks to my crazy amazing staff that holds the business together and MOST of all, thank you to my amazing partner of almost 15 years Jimmy Shumsky who never complains about the hours and after hours care I give to my clients and for pushed me to keep trying when I had lost all hope of the dream. Ground break should be mid January and completion, hopefully by early 2017. We will be the only clinic in the state with both our dog and cat wards built to be F5 FEMA rated storm shelters plus many more surprises with our furry patients and their comfort in mind!

---

We are very excited about the site for our new hospital!
And we are even more excited about moving into our new home when it is complete!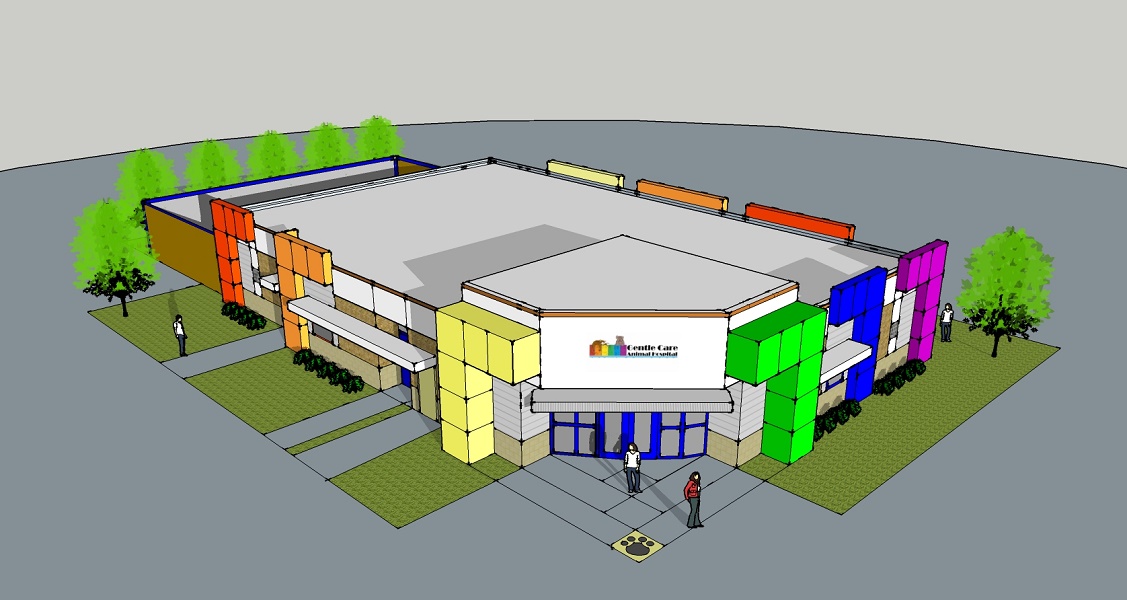 Check back for updates on the construction progress!