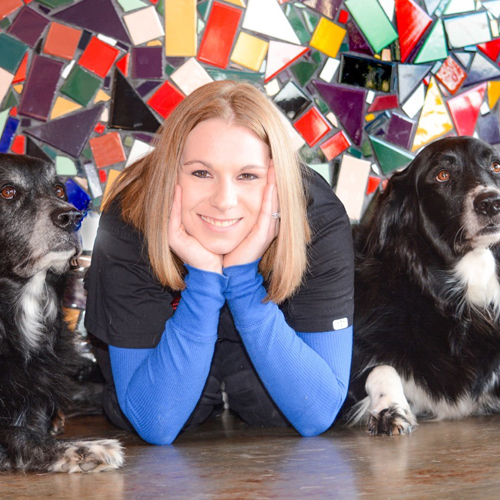 Skyler Caldwell
Pictured with Zoe & Sasha Caldwell
Head Veterinary Technician & Hospital Manager
Skyler began working for Dr. Chris while attending classes to become a Registered Veterinary Technician at Oklahoma State University-Oklahoma City in May of 2011 and graduating in December of 2011 with an Associates in Applied Sciences.  As a technician, she loves the challenges in medicine that are brought forward and the patients seen on a daily basis, however as the clinic grew, the leadership involved with a fully functioning clinic became a growing interest. With a growing interest in leadership and the ever-changing business aspects, she was promoted to the Hospital Manager in October of 2015.
Skyler met her husband, Kyle Caldwell, whom is also a Veterinary Assistant. Their two dogs, Zoe and Sasha, whom are Great Pyrenees, Australian Shepherd, and Golden Retriever Mixes are the love of their lives and fur kids.  They are littermates and a complete handful!  In addition to the dogs, they also have four cats, Biggie Shorty, Mr. Kittykins, Puma, and Thorin.   When not at the clinic, Skyler enjoys spending time outdoors in her garden, sewing, and spending time with family.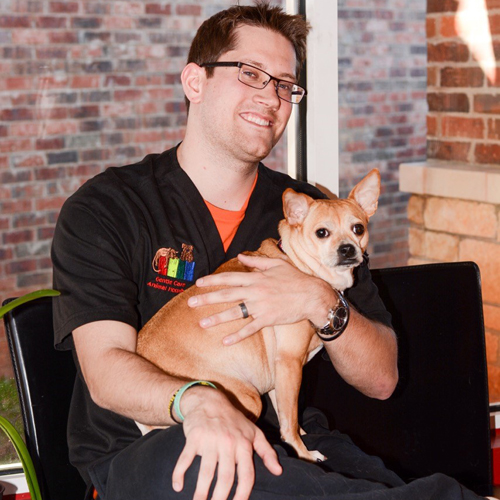 Kyle Caldwell
Pictured with Callie Moore
Veterinary Assistant
Kyle has been working with Dr. Chris at Gentle Care since June of 2008 starting as a Patient Care Coordinator and working his way up to a Veterinary Assistant.  He loves the challenges he overcomes every day with patient care and his favorite part of the job is taking and looking at x-rays.  Kyle is currently attending graduate school at Rose State College to become a Radiology Technician, working with Human patients.  When not a full-time student or working with furry patients, Kyle enjoys spending time with his wife, Skyler, their two dogs named Zoe and Sasha, 4 cats named Mr. Kittykins, Puma, Thorin Oakenshield, and Biggie Shorty.  His hobbies include watching superhero shows, playing video games, and spending time with family.
Sarah Decker
Pictured with Jewels
Veterinary Assistant
Sarah joined the Gentle Care family in June of 2018 . Born in New York but raised in Oklahoma Sarah graduated from Yukon High School. Sarah has been fortunate enough to be able to dabble in all 3 careers she dreamed to be a part of including being a Police Officer, EMT, and a veterinary assistant. Getting to work around fur babies makes her heart happy and now to be able to help humans and animals. When not at the clinic Sarah enjoys spending time with her husband and daughter. She has a blue Great Dane named Kingston who is a gentle soul with a goofy personality. Sarah enjoys being able to care for animals every day, and that every day is a new adventure.
Brittany Kissling
Pictured with Miss Ellie Kissiling
Certified Veterinary Technician
Brittany joined the Gentle Care family in August of 2018. Brittany recently graduated from OSU-OKC and will be taking her National Veterinary exam soon. She enjoys being able to learn about all different cases that come into the clinic and learning new things every day. Brittany treats all fur babies that come into the clinic as if they were her own and has a welcoming warm demeanor with every interaction. She has a busy household with three Australian shepherds, a Bernese mountain dog, 5 cats, and a leopard gecko. Brittany is quoted saying "I feel complete when I spend my day with animals and find happiness in being able to bring care to them."
Sara Bert
Reception Manager
Sara has been a member of the Gentle Care family since January of 2017. Her enjoyment of work comes from interacting with the patients, knowing her work contributes to the growth, well-being, and relationships of our clients and patients. Sara calls Yukon, Oklahoma home as she graduated from Yukon High School in 2009 and has strong ties to the local 4-H in which she participated in its start-up and continued to raise and show pigs. Her passion for animals has always been strong, growing up she was surrounded by dogs ranging from Bulldogs to German Shepherds. Her passions outside of work consist of spending time with her fiancée and family which consists of, loving her two cats Lionel (as in Richie) a gray and white Domestic Shorthair and Lemmy (as in Kilmister) a white and brown Siamese mix, music and collecting vinyl records.
Whitney Shuey
Pictured with Bristol
Receptionist Manager
Whitney was born and raised in Oklahoma and is an avid SOONERS fan. She has been a part of the Gentle Care family as the front desk manager since June of 2017. Whitney has been in the veterinary field for ten plus years with roots stemming from emergency medicine. Whitney loves that everyone she works with has a passion working with "fur babies" she also enjoys meeting new people every day and growing a great relationship with our clients. Whitney also known as "momma bear" has two 13 year old boys at home that keep her busy they all love the country outdoor life such as bonfires and four wheeling! She has a HUGE love for all fur babies and has three at home a five year old pit named Bristol, a five year old lab named Bruiser, and a twelve year old Jack Russell named Lucky Roo.
Holly Genzer
Pictured with Jimmy
Receptionist
Holly became part of the Gentle Care family in April of 2018. Holly has worked as a receptionist in the Veterinary field for almost three years. One of the many things she enjoys about working for Gentle Care is being able to meet all the different kind of animals that come to visit the clinic including dogs, cats, birds, rats, and chinchillas. At home holly has two fur babies of her own Blaze a brindle rescue pit bull that is the biggest love bug, and Chevy who is a smart red heeler/Basenji mix, and also a bearded dragon named Bocephus. In her spare time Holly enjoys playing soft ball and has played since she was 4 years old or spending time with her huge family.
Aubrey Metzger
Pictured with Ruca
Kennel Technician Manager/Inventory Manager
Aubrey joined the Gentle Care family in March of 2017 as a Kennel Technician, caring for our vacationing and in-house furry friends. She grew up in a small town in upstate New York, transferring to Oklahoma on a whim in 2007 where she met her husband. Aubrey has a son named Dre and two fur kiddos a Boston Terrier who comes to work with her every day named Ruca and Nanook, an Alaskan malamute. Aubrey enjoys being a member of the Gentle Care family and team for many reasons including interacting with the staff, learning new things, getting to know all the boarders, puppy kisses (she REALLY likes this), and getting to meet our incredible clients. When not taking care of patients she can be found spending time with her son Dre, attending concerts, and finding new Boston terrier items to collect.
AJ Tabor
Kennel Technician
AJ joined the Gentle Care family in June 2017 as a kennel technician. AJ loves animals and being able to work with them and interact with them daily. He is currently a senior in high school with big plans to attend college and major in Education & History to become an educator. In his free time, he enjoys playing music and can find him hanging out with his friends.
Erika Mercer
Kennel Technician
Pictured with a beloved boarder Junior
Erika became a part of the Gentle Care family in January of 2018 as a kennel crew member. Erika grew up in Bethany Oklahoma. She loves the opportunity to get to know all of our in house visiting patients, and growing a bond with them. She has two fur babies at home a blue pit bull named Oakley and a beagle mix named bandit. When Erika is not with her work family you can find her enjoying time with her three nephews, out at the ball field playing softball, and micro sprint racing which is a huge passion of hers.