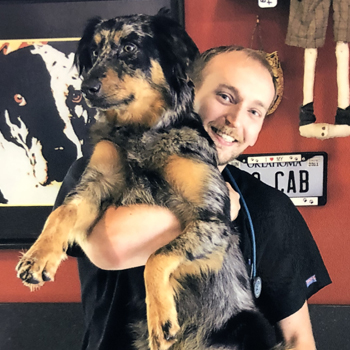 Matthew Baker
Pictured with Athena Baker
DVM
Bio coming soon!
Sarah Decker
Pictured with Jewels
Veterinary Assistant
Sarah joined the Gentle Care family in June of 2018 . Born in New York but raised in Oklahoma Sarah graduated from Yukon High School. Sarah has been fortunate enough to be able to dabble in all 3 careers she dreamed to be a part of including being a Police Officer, EMT, and a veterinary assistant. Getting to work around fur babies makes her heart happy and now to be able to help humans and animals. When not at the clinic Sarah enjoys spending time with her husband and daughter. She has a blue Great Dane named Kingston who is a gentle soul with a goofy personality. Sarah enjoys being able to care for animals every day, and that every day is a new adventure.
Taylor Wampler
Pictured with Louie Bert
Receptionist
Taylor joined the Gentle Care family in August of 2018. Taylor currently takes college courses full time and has ambitions to one day become a Veterinarian owning her own clinic with her identical sisters. Taylor loves being able to see all the different breeds of animals that come visit the clinic especially being able to love on them. Taylor has many fur babies of her own at home ranging from chihuahua, blood hound, and pit bull. When Taylor is not at work she spends time with her family and friends going on different adventures and can usually be found with some sort of fur baby around.
Monne Jacobs
Pictured with Angel
File Coordinator
Monne joined the Gentle Care Family in August 12th 2012. Monne loves being able to come to work to be surrounded by her work family, and to be able to greet each fur baby as they come in to the clinic. Monne has a pug mix that she brings to work with her everyday named Angel who is always willing to greet clients with kisses on the counter. In her spare time away from the clinic she loves to go on long walks with Angel, keep her neighborhood safe and clean, gardening, and her favorite activity is cooking for her two sons who are her pride and joy, and she will say the two greatest things she ever did right in her life. Monne says she is blessed she gained beautiful daughters through her sons' wife & girlfriend, and the girls she works with who have become a special part of her life and the girls up front often call her "mom" or "momma Monne" as she plays that role in their lives.