Dr. Shannon Johnson, DVM
Pictured with Gunner Johnson
Tues & Relief Veterinarian
Dr. Shannon Johnson is from Folsom, California, but was raised in Western Oklahoma and North Texas.  Dr. Shannon began working with Dr. Chris and the Gentle Care staff in 2014 working as a relief Veterinarian.
In 1998, Dr. Johnson received her doctorate in Veterinary Medicine from Oklahoma State University where she also met and married her husband.  After completing her degree, she and her husband practiced veterinary medicine in Texas and Colorado before moving back to Oklahoma.   She enjoys performing soft tissue surgeries loves when a surgical procedure makes a pet feel better prior than how they felt before surgery.  Another passion of hers in the Veterinary filed is helping senior pet owners with their loved ones.
When Dr. Johnson isn't at the clinic, you will likely find her volunteering at school or driving her two children between the gym, horse riding lessons, and other activities.
Dr. John Whitesell, DVM
Relief Veterinarian
Dr. Whitesell began working as a Relief Veterinarian for Gentle Care in April of 2016, providing excellent client and patient care in addition to flexibility with appointment times. Earning a Bachelor Degree in Animal Science in 2006, a Doctorate in Veterinary Medicine in 2010 and followed with an Internship of Small Medicine & Surgery at Oklahoma State University. After graduating, Dr. Whitesell worked in several Small Animal practices and enjoys building client and patient relationships in addition to advocating preventative care. In addition to Small Animal Practice, he has experience in emergency medicine with Blue Pearl Emergency and Specialty Referral Pet Hospital of Oklahoma City where he found the challenge of diagnosis and treatment of complicated cases rewarding, a special interest in soft tissue surgeries, and providing treatment and care of critical patients.
When not working in the clinic, Dr. Whitesell enjoys spending time outdoors and includes snowboarding, river rafting, going to the lake, and working on his ranch with his horses. His furry family members include an Australian Shepherd named Jess and a cat named Stubbs.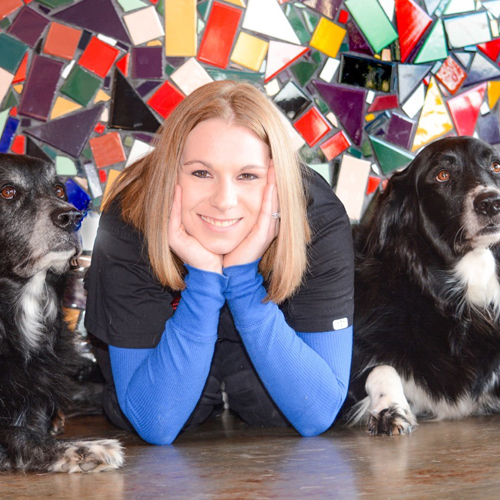 Skyler Caldwell
Pictured with Zoe & Sasha Caldwell
Head Veterinary Technician & Hospital Manager
Skyler began working for Dr. Chris while attending classes to become a Registered Veterinary Technician at Oklahoma State University-Oklahoma City in May of 2011 and graduating in December of 2011 with an Associates in Applied Sciences.  As a technician, she loves the challenges in medicine that are brought forward and the patients seen on a daily basis, however as the clinic grew, the leadership involved with a fully functioning clinic became a growing interest. With a growing interest in leadership and the ever changing business aspects, she was promoted to the Hospital Manager in October of 2015.
Skyler met my husband, Kyle Caldwell, whom is also a Veterinary Assistant. Their two dogs, Zoe and Sasha, whom are Great Pyrenees, Australian Shepherd, and Golden Retriever Mixes are the love of their lives and fur kids.  They are littermates and a complete handful!  In addition to the dogs, they also have four cats, Biggie Shorty, Mr. Kittykins, Puma, and Thorin.   When not at the clinic, Skyler enjoys spending time outdoors in her garden, sewing, and spending time with family.
Karen Dobyns
Pictured with Beatrice Dobyns
Veterinary Technician
Karen grew up in Tucson, Arizona, and had several
pets growing up and is how she learned about the unconditional love that they give without hesitation. There is nothing that compares to this love!
Karen started in the animal health field well over two decades ago. The field is challenging, ever- changing, and she learns something new every single day. There is nothing that makes Karen happier than helping an injured or sick pet return to their family in good health. There are times in this field when participation in ending a beloved pet's suffering, and this, too, has the utmost importance and meaning. It is important to educate others on taking the best care possible of their pets and as an advocate for spaying, neutering and adopting rather than purchasing an animal. There are so many precious pets in shelters that need homes. Being an animal nurse is not what she does, it is who Karen is.
While away from work, she enjoys hiking, outdoor photography, photography portraiture, oil painting and graphite pencil drawing. In addition to the outdoors, Karen enjoys spending time with family and friends and with my dog, Beatrice, whom was adopted two years ago.
Michelle Stafford
Pictured with Jasper McCune
Veterinary Technician
Michelle began her work with Gentle Care Animal Hospital in December 2015 and has previous experience with other Veterinary Clinics and graduating the Veterinary Technology program at Oklahoma State University-Oklahoma City branch in 2013 earning her Associates in Applied Sciences with a previously earned degree of Bachelor in Animal Sciences.  Her passion as a technician is seeing a client and hearing stories of a loved family member helped by her hard work and care, which is why a major passion outside of work is providing love and care to rescue animals. For Michelle, every patient she comes across is like family and should be treated as such.  Family is very important to her which includes a son and all of the fur babies rescued looking for their own homes.
Elizabeth Rathmann
Certified Veterinary Technician
Although her given name is Elizabeth, she likes to be called Beth. She is a 2016 graduate of Oklahoma State University Oklahoma City Campus Veterinary Technology program. Beth came to work for Gentle Care in November of 2016 as a technician with a passion for working with patients and giving the best medical care possible, allowing them to live their lives' as comfortably as possible. Other passions within Veterinary medicine include wound care and Parasitology with plans to become a nationally Registered Veterinary Technician with the completion of her national boards. In addition to working, Beth enjoys reading, watching movies, spending time with friends, and writing non-fiction short stories. She shares her home with a 1 year old brown and a grey tabby feline named Bandit.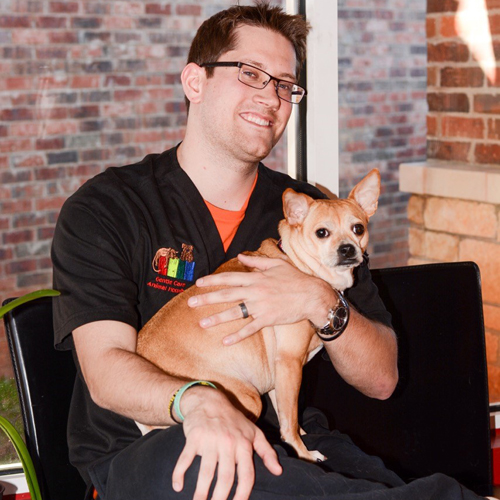 Kyle Caldwell
Pictured with Callie Moore
Veterinary Assistant
Kyle has been working with Dr. Chris at Gentle Care since June of 2008 starting as a Patient Care Coordinator and working his way up to a Veterinary Assistant.  He loves the challenges he overcomes every day with patient care and his favorite part of the job is taking and looking at x-rays.  Kyle is currently attending graduate school at Rose State College to become a Radiology Technician, working with Human patients.  When not a full-time student or working with furry patients, Kyle enjoys spending time with his wife, Skyler, their two dogs named Zoe and Sasha, 4 cats named Mr. Kittykins, Puma, Thorin Oakenshield, and Biggie Shorty.  His hobbies include watching superhero shows, playing video games, and spending time with family.
Danielle Rainbow
Kennel Technician/Veterinary Assistant
Danielle, also known as Dani, joined the Gentle Care family in January of 2017 as a Kennel Technician and Veterinary Assistant. She was born in Oklahoma City but moved to and has spent most her life in Norman, Oklahoma where she graduated from the Moore-Norman Technology Center Veterinary Assistant program in May of 2016. Dani began working for a veterinary clinic in Moore upon graduation where she honed her skills as a Kennel Technician before joining our family. She felt the most utmost importance to our clinic is the care and commitment to our clients and patients as we treat them as family. Dani's dream is to attend Oklahoma State University to earn her Doctorate in Veterinary Medicine to continue her passion of providing the utmost care for clients and patients. In her spare time away from work, she enjoys skateboarding with her cousin and watching T.V. shows and movies with her family.

Sara Spera
Kennel Technician/Receptionist
Sara has been a member of the Gentle Care family since January of 2017. Her enjoyment of work comes from interacting with the patients, knowing her work contributes to the growth, well-being, and relationships of our clients and patients. Sara calls Yukon, Oklahoma home as she graduated from Yukon High School in 2009 and has strong ties to the local 4-H in which she participated in its start-up and continued to raise and show pigs. Her passion for animals has always been strong, growing up she was surrounded by dogs ranging from Bulldogs to German Shepherds. Her passions outside of work consist of spending time with her fiancée and family which consists of, loving her two cats Lionel (as in Richie) a gray and white Domestic Shorthair and Lemmy (as in Kilmister) a white and brown Siamese mix, music and collecting vinyl records.
McAuley Wilson
Pictured with Sinatra Wilson
Veterinary Technology Student
McAuley has been working with Gentle Care Animal Hospital since June of 2016 as a part-time technician and full-time student at Oklahoma State University-Oklahoma City branch earning her Associates degree in Veterinary Technology in Sprint of 2017. She grew up on a farm of 20 acres in Oklahoma City with cattle, horses, rabbits, chickens, sheep, cats, and dogs, which has fueled her love for her job and future career. While at work McAuley enjoys laboratory work, client communication, and patient care. Her passions outside of work and school include spending time with family which includes an Arabian horse named Gunner, a Great Dane named Sinatra, and other various animals on the farm.
Chavez Slusher
Pictured with Avery Rispoli
Patient Care Coordinator
Chavez began working at Gentle Care Animal Hospital in September 2015 as a patient care coordinator, ensuring the health of boarding and visiting patients.  He feels his personality is perfect for his role in patient care due to the level of compassion in his heart and mercifulness he displays when participating in the care of the clients and their loved ones.  Chavez also feels that working as a team and family everyone can reach a common goal, and that is to provide a safe and loving environment for the clients and patients.  In addition to patient care, outside of work, he loves spending time with his family, outdoor activities such as hiking and participation in community outreach by working with local shelters.  Chavez has his own pet at home, a 6 year old Miniature Schnauzer named Storm.